Web Sites for Actors and Artists
DFXden is very proud to offer custom web solutions for Individual Artists
We offer artists exceptionally priced packages at reasonable rates, with honest service and no hidden fees. Our team is comprised of a variety of artists who understand your needs.
Writers, Visual Artists, Photographers, Actors, Performance Artists, Video Artists and Musicians are welcome to choose a package and then collaborate with us to develop a customized site for you. All Portfolio sites will be tailored to your area of focus and to your particular aesthetic. We work with you one on one to help you reach your online goals.
NEW: Contact Us about our Fall 2016
Headshot/Website combo deal for artists!
The DFXDEN difference
 Payment plans are available for all these packages
 All our Individual portfolio packages allow you to update from your own browser
 Host your web site with us for only $60 dollars per year!
 Free 12 month Domain Name Registration your first year
Below you will find a list of some simple solutions we offer artists. They vary in budget, size and time commitment and so the price point reflects that difference. Special Rates and Union Discounts may apply Contact Us for Details! Be sure to view our Portfolio if you haven't already!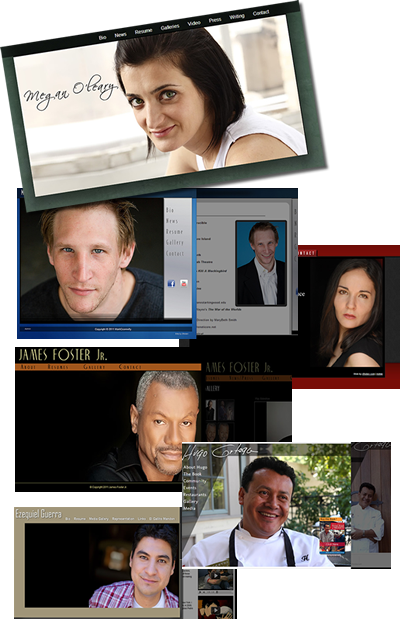 Basic
domain Name Registration/hosting 1 year
Basi Image Gallery/Resume/contact form/About
12 month Web Hosting
Simple 3 page site, Simple but effective, online busines card
Standard
domain Name Registration/hosting 1 year/up to 10 pages
Advanced Gallery/Custom Design/+ Updatable news section
Edit Primary Content From your browser! 
Advanced Blog integration
Advanced 800+
domain Name Registration/hosting 1 year/ Video/Image Editing
for large body of work or small arts org
Content Editing and multi user logins
2 months Free Updates by us